Canon Unveils the EOS R3: 24MP, 6K RAW, 30FPS Blackout-Free EVF
SEP 14, 2021 JARON SCHNEIDERhttps://www.facebook.com/v2.10/plugins/share_button.php?app_id=207578995971836&channel=https%3A%2F%2Fstaticxx.facebook.com%2Fx%2Fconnect%2Fxd_arbiter%2F%3Fversion%3D46%23cb%3Df35d44cc69173e4%26domain%3Dpetapixel.com%26is_canvas%3Dfalse%26origin%3Dhttps%253A%252F%252Fpetapixel.com%252Ffe87e62cd07f68%26relation%3Dparent.parent&container_width=41&href=https%3A%2F%2Fpetapixel.com%2F2021%2F09%2F14%2Fcanon-unveils-the-eos-r3-24mp-6k-raw-30fps-blackout-free-evf%2F&layout=button_count&locale=en_GB&mobile_iframe=true&sdk=joey&size=largehttps://platform.twitter.com/widgets/tweet_button.f88235f49a156f8b4cab34c7bc1a0acc.en.html#dnt=false&id=twitter-widget-0&lang=en&original_referer=https%3A%2F%2Fpetapixel.com%2F2021%2F09%2F14%2Fcanon-unveils-the-eos-r3-24mp-6k-raw-30fps-blackout-free-evf%2F&size=l&text=Canon%20Unveils%20the%20EOS%20R3%3A%2024MP%2C%206K%20RAW%2C%2030FPS%20Blackout-Free%20EVF%20%7C%20PetaPixel&time=1631669170776&type=share&url=https%3A%2F%2Fpetapixel.com%2F2021%2F09%2F14%2Fcanon-unveils-the-eos-r3-24mp-6k-raw-30fps-blackout-free-evf%2F
Canon has finally revealed the full details of its latest professional camera, the $5,999 EOS R3. It features a backside-illuminated stacked 24.1-megapixel sensor, up to 30 frames per second blackout-free shooting, 6K RAW video capture, and much more.
While Canon has revealed a lot about what to expect with the EOS R3 over the course of two development announcements and information from Olympics shooters in Tokyo, the company still held several important details under wraps until the official announcement.https://www.youtube.com/embed/E_8vHyYuspI
A New, Extremely Fast Sensor
The EOS R3 uses a brand-new Canon-developed back-illuminated stacked CMOS 24.1-megapixel sensor. The company is so confident in this new sensor that it says that even though it has fewer megapixels than the 5D Mark IV camera, it achieves resolution performance that exceeds it. In other words, Canon says that the photos taken with the R3 are better quality than its higher-resolution precursors despite fewer megapixels.
The sensor is powered by Canon's DIGIC X processor that it says can deliver a high-speed readout that allows the R3 to shoot continuously in electronic silent shutter mode at up to 30 frames per second with no blackout. Canon built in a normal electronic shutter mode as well as a truly silent mode that also quiets all sounds that the camera makes for particularly sensitive shooting situations. The camera can also shoot at up to 12 frames per second with a traditional mechanical shutter. Canon says that the readout speed of the sensor is so good that there is minimum rolling electronic shutter distortion.
The EOS R3 can support flash sync with its electronic shutter at up to 1/180 second at up to 15 frames per second.
The camera is able to perform autofocus calculations and tracking at up to 60 frames per second during continuous shooting with the electronic shutter, which is double the speed at which the camera is able to capture images.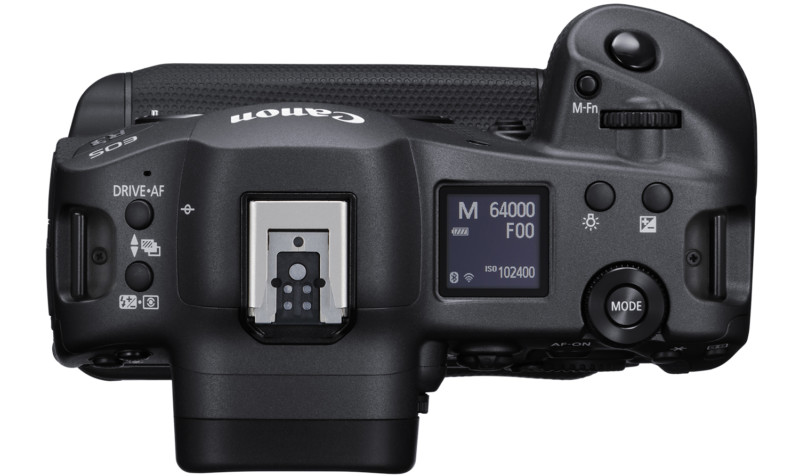 The camera also has higher sensitivity with a native ISO range of 100 to 102.400 that is expandable up to 204,800 for still shooting purposes. Like the EOS R5 and R6, the EOS R3 uses Dual Pixel CMOS AF II with 1,053 autofocus points and tracking performance that is accurate even as low as EV -7.5 (this is 0.5 lower than the original estimation of -7 seen in a previous development announcement).
Autofocus Tracking
Speaking of tracking, the system is able to acquire a subject simply by getting close to it. Canon explains this as all the AF points are capable of becoming tracking points, and the camera is smart enough to sense objects anywhere in the frame and immediately lock onto them through customizable settings in the camera. This is difficult to explain, but in a demonstration, Canon showed how a tracking point that was set to one corner of the screen came close to a face and indicated that even though the face was outside the tracking area, it recognized it as a trackable object and gave the photographer the ability to jump to the face and immediately track it.
As mentioned previously, the EOS R3 not only has human eye, face, head, and body detection, but also can recognize the eyes, faces, and bodies of dogs, cats, and birds in the same manner that the EOS R5 can. Additionally, the EOS R3 has a vehicle priority tracking mode the uses a vehicle detection algorithm for automobiles and motorcycles that was developed using deep learning technology. It is capable of detecting the helmet of racing car drivers and motorcycles and can give photographers the ability to automatically prioritize tracking a vehicle or a person in or on a vehicle, or vice versa.
A new Electronic Viewfinder
Canon also integrated Eye-Control Autofocus into the EOS R3's viewfinder for the first time in an EOS digital camera. It is touted by the company as being extremely accurate and intuitive to use. The system it uses was recently published in a patent for those who want more information on how the device physically works. With Eye input AF and Servo AF activated, the camera will focus on and track moving subjects at that location in the frame. When Face Detect + Tracking is active, the camera will continue to follow moving subjects around the entire active AF area.
On the topic of the EVF, Canon says that it features a new 5.76-million-dot, 120 frames-per-second OLED that was designed and developed by Canon. Canon says that the OVF simulation view assist function, which leverages the EVF's high brightness performance and Canon's HDR technology, provides a natural field of view that it claims is similar to that of an optical viewfinder. The high-performance of this OLED EVF means that there is reduced time lag during continuous shooting, sit suppresses the decrease in refresh rate even during continuous shooting (when compared to a camera like the EOS R5), and is capable of displaying frame rates of either 60 or 120 frames per second.
Video Performance
The EOS R3 can also capture quality video in a multitude of formats. First, it is capable of shooting 6K RAW video that uses the entire width of the sensor (6000 x 3164 pixels) as well as 4K at up to 120 frames per second in Canon Log 3. In 4K DCI mode (4096 x 2160 pixels) it is capturing 6K oversampled footage and in 4K UHD mode (3840 x 216) is capturing 5.6K oversampled footage. 4K at up to 60 frames per second is oversampled, but the 120 frame per second mode is a direct read off the sensor. Canon says that all of the aforementioned non-RAW video modes can be shot in 10-bit.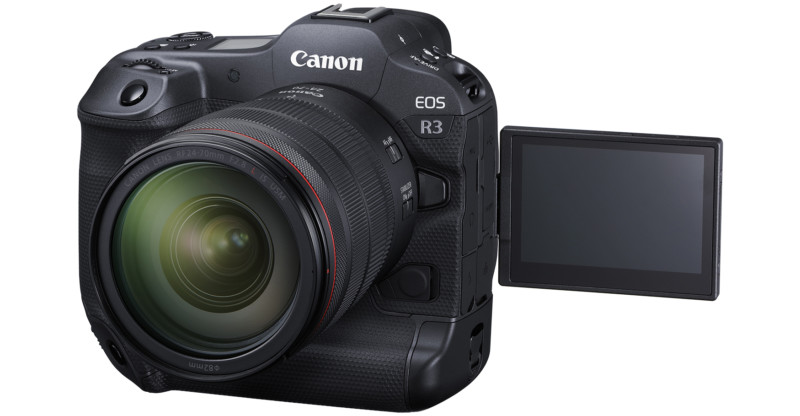 All that video performance does generate heat, and Canon has noted that the camera will auto-power off in the "standard" configuration after 25 minutes of recording 6K at 60 frames per second RAW footage. In the "High" configuration, that extends to 60 minutes of continuous shooting. In 4Kp120 All-I, the EOS R3 can continuously record for 12 minutes. IN oversampled 4Kp60, photographers can expect at least 60 minutes, "or more." At 4Kp30, recording times are not limited by heat. While shooting, the camera will display two warnings, one which indicates that the heat limit is approaching and another that will show that heat is reaching a critical level. The point of the two warnings is to give video shooters time to finish a scene before needing to let the camera cool off.
Design and Build
Physically, the EOS R3 uses a one-piece magnesium alloy design that integrates the body with a vertical grip section. The camera body has a level of weather and dust resistance that is equal to the EOS-1D camera series. It supports wired LAN, 5gHz WiFi, USB, and Bluetooth. It has two memory card slots, one that supports CFexpress and one for UHS0II SD cards.
The rear display is a vari-angle 3.2-inch 4.3-million dot LCD that integrates touch, similar to what is found on the other EOS R series cameras.
Canon says that photographers will likely be surprised how light the EOS R3 is compared to the 1DX series: the body weighs about 1.81 pounds, or 822 grams.
The EOS R3 has an on-sensor image stabilizer that can provide up to eight stops of shake correction.
Canon's new hot shoe is what the company calls "next generation" and supports accessories like the Speedlite EL-1 as well as the new ST-E10 transmitter and new external mic and smartphone link adapter. On that last note, the Mobile File Transmitter application for iOS and Android devices allows photographers to transfer their images quickly and easily without the need for wired LAN equipment.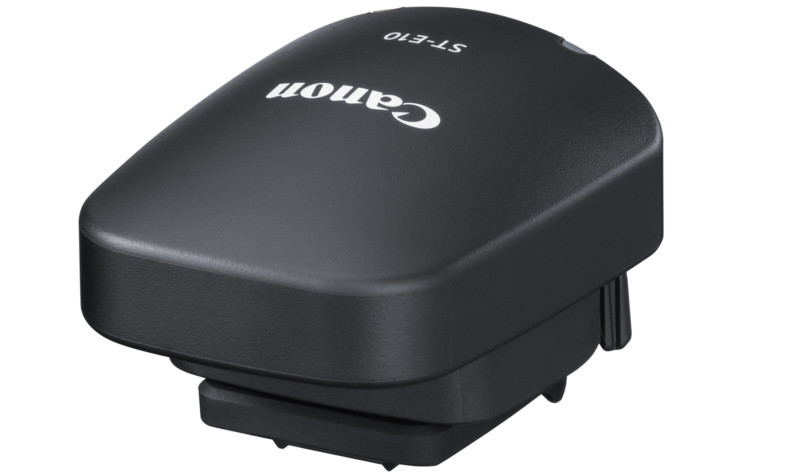 The Canon EOS R3 uses the LP-E19 battery and is not compatible with the LP-E4. It is, however, usable with the LP-E4N battery, but charging those with the EOS R3's battery charger is not recommended.
Why 24-Megapixels?
A common question might be why Canon chose to go with what many consider to be a pretty low resolution of just 24-megapixels. Canon explains that the EOS R3 is not a camera designed for everyone and is meant to slide into its full lineup. While the R5 focuses on high resolution in both photo and video, for example, the R3 brings that down a bit to offer better ISO sensitivity, better weather resistance, better continuous shooting, and better AF subject tracking.
But a major reason why Canon chose to keep the megapixels down was that 24-megapixels is considered the most that photojournalists are allowed to submit to photo agencies. Canon says that because of this, the 1DX was more popular at the Olympics. While the R5 was used, Canon says that photojournalists intentionally changed the output of the camera to be a lower resolution so that they could submit the images to their agencies.
In short, the R3 is considered a specialized camera designed for a specific group of professional photographers: photojournalists.
The Canon EOS R3 is scheduled to become available in November 2021 for $5,999.TAGS: 24MEGAPIXELS, 4KP120, 6K, 6KRAWVIDEO, AUTOFOCUS, BLACKOUTFREE, CANON, CANONEOS, CANONEOSR3, EOSR3, EYECONTROLAF, HOTSHOE, OLED, OVERSAMPLED4K, PHOTOJOURNALISTS, R3, TRACKING, VERTICALGRIP