May The Slits Be High & The Hemlines Be Short: The Return Of The Micro Mini Skirt
---
May The Slits Be High & The Hemlines Be Short: The Return Of The Micro Mini Skirt
ELIZA HUBERLAST UPDATED SEPTEMBER 21, 2021, 12:17 PM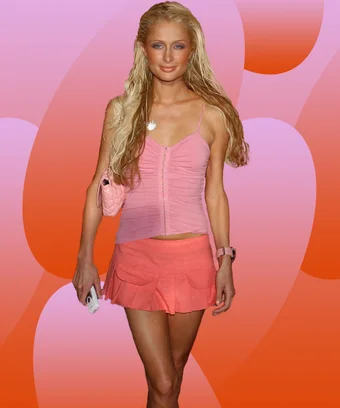 PHOTO: GREGG DEGUIRE/WIREIMAGE.The only wardrobe item tinier than our party dresses, short shorts, and cardigans in 2021 are our skirts, which, over the course of the pandemic, have dwindled to near-nonexistent proportions. For proof, see Bella Hadid, twirling in a pleated, low-rise mini on Instagram, and Dua Lipa donning a Thom Browne crop top and a school-dress-code-violating plaid skirt in NYC. Following more than a year in lockdown — most of which was spent indoors, swaddled in a sartorial safety blanket (read: a Pangaia sweatsuits) — fashion as a whole went under the shrink ray, resulting in a whole bunch of skirts that aren't just not safe for work, but not safe for wind, either. The first signs of a micro mini comeback arrived on the catwalks at Saint Laurent, Miu Miu, and Blumarine's fall '21 shows last winter. There, the total absence of maxi and midi skirts sent those hemlines to the past. Reminiscent of the Y2K-era silhouettes beloved by Paris Hilton, Britney Spears, and Rihanna in the early '00s, the 2021 version of the micro mini is often low-rise, fitted, and cropped short. View this post on Instagram
A post shared by Bella 🦋 (@bellahadid)So it's no surprise that one of their original supporters was among the first to be spotted off-the-runway wearing a micro mini in 2021. In March, Rihanna was seen in a cutoff denim skirt with visible boxers, a tropical shirt, and sky-high strappy sandals for a stop at the grocery store. Photos of the singer-designer soon went viral, causing us to question our perhaps ill-advised decision to donate most of our jean skirts from the early aughts. In July, Maryam Nassir Zadeh used her resort '22 collection to introduce an ultra-cropped mini skirt design akin to a tube top. Miami-based label Gimaguas ran with it, styling its now-sold-out selection of boob tubes as micro minis, and vice versa. Indie labels like 1xblue, Tank Air, Miaou, and Gauge81, most of which were designing mini skirts before they were ranked on fashion's "hot" list, saw spikes in popularity on Instagram, showing up on A-listers like Paloma Elsesser, Emma Chamberlain, Willow Smith, and Olivia Rodrigo, resulting in frequent sell-outs and impressive waitlists. Also in July, buy-now-pay-later platform Klarna reported a 67% increase in searches for mini skirts, compared to just a month prior in June — a number likely to grow as sold-out styles are restocked and more and more designers ditch the modest hem-lengths they frequented pre-pandemic.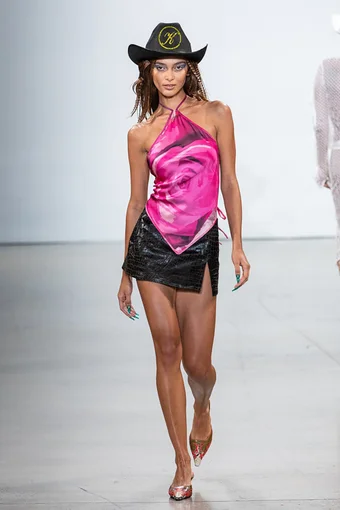 PHOTO: COURTESY OF KIM SHUI.Kim Shui spring '22 collection.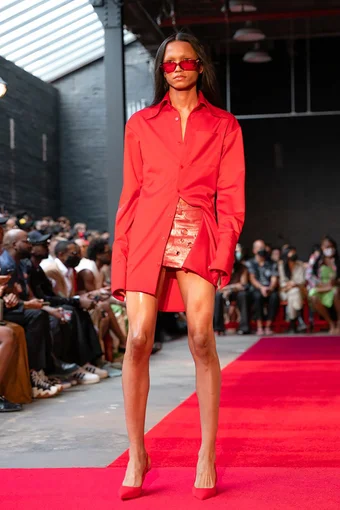 PHOTO: COURTESY OF THEOPHILIO.Theophilio spring '22 collection.At least that appeared to be the case during Fashion Month. In addition to visible underwear and low-rise jeans, micro mini skirts circa the early '00s were in heavy rotation during New York Fashion Week. Models at Theophilio donned minis made of striped knitwear and red leather, while at Kim Shui, the brand paired leather skirts with TikTok-approved scarf tops. Sandy Liang styled tiny cardigans with pleated mini skirts, and Saint Sintra put tin-foil-esque skirts with see-through tops and destroyed stockings. Together, their support extended the barely-there trend well into next year. Given how long we spent in sweats during lockdown, six months (or more) spent wearing leg-baring mini skirts feels like just what our wardrobes need. Plus, it'll give us an opportunity to finally break out all of the logo- and pattern-clad tights we bought pre-pandemic and consequently never wore. And if that's not enough to take scissors to your skirt collection, nothing will be. SHOP 6 PRODUCTSMIAOUMicro Mini SkirtBUY$155.00MIAOUFRANKIES BIKINISWindward Terry SkirtBUY$90.00FRANKIES BIKINISMARYAM NASSIR ZADEHBrown Bisou MiniskirtBUY$155.00SSENSEZARASatin Effect Mini SkirtBUY$45.90ZARAIETS FRANSBrown Velour Low-rise SkirtBUY$39.00URBAN OUTFFITERSGIRLFRIENDSkortBUY$58.00GIRLFRIENDAt Refinery29, we're here to help you navigate this overwhelming world of stuff. All of our market picks are independently selected and curated by the editorial team. If you buy something we link to on our site, Refinery29 may earn commission.MICRO MINI SKIRT TREND FROM Y2K IS BACK FOR FALL 2021ORIGINALLY PUBLISHED ON SEPTEMBER 21, 2021, 8:17 AMSTYLE • FALL FASHION GUIDE • FALL TRENDS • FASHION • FASHION NEWSWRITTEN BYELIZA HUBERPHOTO: GREGG DEGUIRE/WIREIMAGE.Recommended for YouABOUT THIS CONTENT
Could These Celebrity Mini Skirts Be Any Tinier? They Barely Have Any Clothes On!
Celebrity skirt hems are getting shorter and shorter!
Stars like Kendall Jenner, Bella Hadid, Paris Hilton, Christie Brinkley and more are opting for mini skirts that show *a lot* of leg–even in the winter months, Hollywood Life points out. Brrr, we're cold just looking at 'em!
READ MORE: The Unexpected Leggings Trend Every Woman Over 40 Needs To Try ASAP
We're Giving Away A Clean, Eco-Friendly Hand Soap Bundle From CleancultENTER NOW
Kendall Jenner wore a black leather Longchamp mini skirt to the brand's fall/winter 2019 show.
Bella Hadid walked in Philosophy di Lorenzo Serafini's fall/winter 2019 runway show at Milan Fashion Week dressed in a super-short leather skirt.
Kerry Washington wore an eye-catching baby blue skirt with a long train.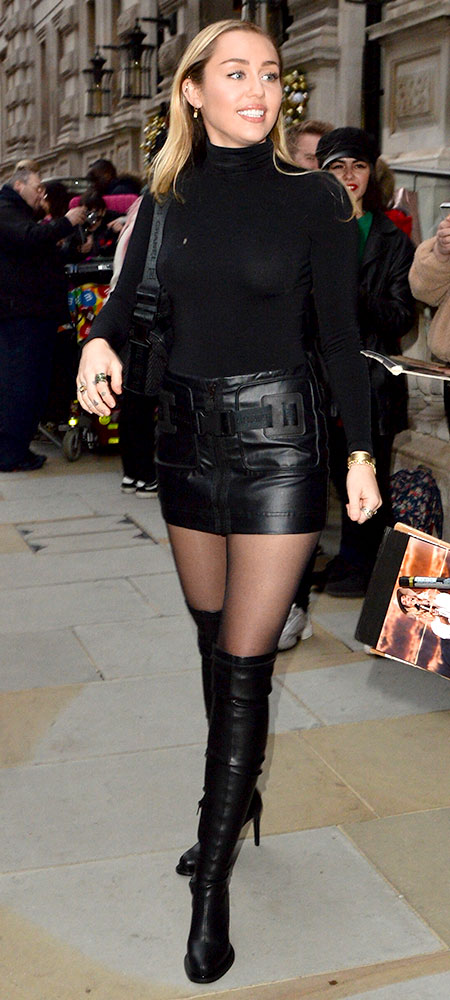 Miley Cyrus wore a tiny black leather mini skirt in London. At least she wore tights!
Christie Brinkley made an appearance at the "Today Show'" wearing a red coat, striped shirt and black mini skirt.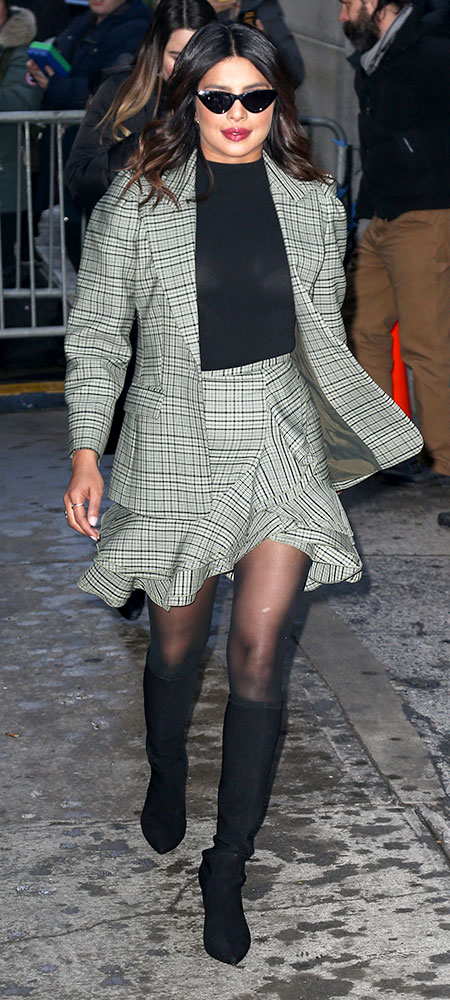 Priyanka Chopra wore tights with her printed Michael Kors skirt at New York Fashion Week. Sensible!
Paris Hilton wore a super short a-line floral skirt in NYC in the middle of winter.