Zendaya's Height, Outfits, Feet, Legs and Net Worth
Scroll down to see pictures of Zendaya Maree Stoermer Coleman showing off her nude feet and bare legs in sexy high heels, boots, sandals, pumps, and hot shoes.
Actress and singer Zendaya is best known for the television comedy 'Shake It Up' and big-budget films like 'Dune,' 'Spider-Man: Homecoming' and 'The Greatest Showman' (Credit: MEGA / WENN)
The American actress/singer/dancer became famous for her co-starring role in the Disney Channel TV show Shake It Up and has a net worth of $15 million.
Zendaya Facts
Net Worth:$15 millionFull Name:Zendaya Maree Stoermer ColemanBorn:September 1, 1996, in Oakland, CADating:She has reportedly dated fellow Disney star Trevor Jackson and her Spider-Man: Homecoming co-star Tom Holland.Kids:NoneWeight:59 kg (130 pounds)Shoe Size:8 US (40 EU)Height:5′ 10″ (1.78 m)Nationality:AmericanSource of Wealth:Film, Television, Music, DanceEthnicity/Race:African-American, German, Irish, English, ScottishWho is Zendaya married to?She has never been married, but is rumored to be in a relationship with her Spiderman co-star, Tom Holland, though the two have denied that they're dating.What religion is Zendaya Coleman?She is not known to be a Christian or religious.What does Zendaya mean?The name Zendaya means To Give Thanks and is of African origin.
Her unusual name comes from the word for thanks, Tendai, in the Shona language, spoken in Zimbabwe and southern ZambiaWho are Zendaya's parents?She is the only child of Claire Marie (Stoermer) and Kazembe Ajamu (born Samuel David Coleman).Does Zendaya have a sister?She has five older half-siblings, two brothers and three sisters, on her father's side.
Their names are Kaylee Stoermer Coleman, Katianna Stoermer Coleman, Austin Stoermer Coleman, AnnaBella Stoermer Coleman, and Julien Stoermer Coleman.How do you pronounce Zendaya?It is pronounced: Zen-day-a (just like how it's spelled.)
Zendaya's Best Quotes
Let's practice motivation and love, not discrimination and hate.
There are so many great things in life; why dwell on negativity?
Find something that makes you happy and go for it.
A feminist is a person who believes in the power of women just as much as they believe in the power of anyone else. It's equality, it's fairness, and I think it's a great thing to be a part of.
If there's any definition to being perfect, you're perfect at being yourself.
I was born an auntie. I have an older niece and nephew and many younger nieces and nephews.
I was actually supposed to be a basketball player, not an actress. My parents had me playing basketball on competitive teams when I was in kindergarten. Even though my heart belongs to the arts, I'm a tomboy at heart, too.
I shampoo every other day and only do the roots. I can't shampoo all the way down to the end, because it will dry my hair out. I use a mask multiple times a week to restore moisture.
One of my dreams is to walk down the runway during Fashion Week!
When you're put in a position to really affect young people who are going to run the world one day, if you're able to be in their life at a young age and make a positive impact, I think that's a beautiful thing.
What hasn't Barbie been? I don't think I can create an occupation that she has not done yet.
As I've gotten older, I've realized my true models are my parents. My mom is like a sheroe. My dad is so strong.
There are things that people say that hurt my feelings or whatever, especially with social media right now. It can be the most amazing thing, and it can also be the most negative and detrimental thing.
I've loved Michael Jackson since the minute I was born. He's probably the most talented person ever. He was able to create such an amazing career and be probably the biggest star we've ever had.
As an artist, you have to work really, really hard because you gotta make something that will allow people to even take the chance to even listen to it, you know?
Pretty is so boring now. There are so many different definitions of 'pretty.' It's so much broader than before. The old pretty is boring – nobody cares anymore.
It's important to raise your voice in things you feel passionate about and things that you know about. Don't raise your voice just to raise your voice if you have nothing behind it and don't know what you're talking about.
I love playing with makeup. Makeup has become a thing where it's an art form. It's not a thing where you use it because you need to feel beautiful or because you don't like the way you look.
Age doesn't mean anything. Age doesn't mean I can't work as hard. Age doesn't mean I can't do as well as everyone else. It's just a factor. It's just there.
My generation, we really have to step up to the plate and vote. Tweeting is great – people say, 'Oh, I don't want this or that' – but at the end of the day, tweeting isn't a ballot. Just saying that you don't like someone on Twitter is not going to turn a state blue or red. You have to vote.
'Shake It Up' definitely teaches kids about the importance of reaching for your dreams and setting high goals. It also teaches great lessons about friendship and family.
X Out has helped me keep up my confidence, and I know it can help anyone who would rather have fun than worry about blemishes. If you want clear, seriously good-looking skin, X Out is for you.
A good hair day is when my curls are popping. Sometimes my curls and waves, they like to go a little wild sometimes. They have a mind of their own. But some days, they just fall right into place.
I've had a lot of voices tell me what I should be making. Personally, I would much rather live and die by my own hand. If my stuff sucks, then at least I made it suck. I didn't allow some person, some old dude in a suit, to make it suck for me.
I'm excited to be a part of the new direction the Barbie brand is headed, specifically how they are celebrating diversity in the line and encouraging kids to raise their voices.
I have a phone obsession. It's really hard on set sometimes because I'll be checking Instagram, and then I have to remember, 'Oh, crap, I have to shoot a scene or rehearse.' Every now and then, I have to turn it off and live my life.
A lot of people don't realize that hair is a big thing for a lot of people, not just African-American women. It's something to be aware of and to be cautious of.
I am so honored to join the company of a roster as celebrated and diverse as Covergirl's. I can't wait to share some of my own beauty tips with fans and work alongside Covergirl to continue empowering girls and women to celebrate their individuality.
I feel that if you shelter your kids from everything, one day they are going to be out in the world on their own, and they are going to have to figure it out. You can't give them a test if you never taught them anything that's on the test. They're going to fail.
When I was younger, I went through a phase when I didn't like my hair. Because the school I went to was primarily Caucasian, there wasn't anyone who had my hair texture. I remember one day I straightened my hair, and that was the first day that people gave me compliments on it.
My mother's proud of where she's from, and her history, and her past, and same with my dad. I have roots in Africa. Like, I am from Africa as well as from Germany, and I am very proud of that.
I was that weird eight-year-old who was really interested in Shakespeare and understood it and appreciated the language.
My mom started working at the California Shakespeare Theater in Oakland when I was two years old, so I've always grown up around theater.
Of course, I've had a problem with people taking me seriously because of my age. People are always going to do that because you're less experienced; you haven't lived as much.
When I first started out in the industry, I was 12 or whatever, and I wanted to be on something so bad, and I didn't know what I was going to be on. At the time, I was in school, and I was working on drama and theatrical stuff, so I never thought that I'd end up going to comedy.
I didn't like my hair and makeup one time on a photo shoot, and my publicist told me, 'You should just be happy with it – they haven't had a black girl on the cover since forever.' She's no longer my publicist.
I have parents and family who will never allow me not to be grounded. If I thought for a second that I could possibly lift off the ground, I have a thousand people who will grab my ankles.
My parents got me in trouble when I was in school because someone was getting bullied, and I didn't do anything about it. I just watched it happen and then came to the school, and I got cussed out for not helping and not being a part of it.
I'm not good at a lot of things. I am not good at keeping my room clean. I am not good at eating healthy. I am not good at sports anymore. I used to be! Not so much anymore.
There were a lot of times people would do my makeup, and it would be awful, and I would be orange. Nothing matched. So then you learn how to do your own makeup. I watched a lot of YouTube videos when I was little and taught myself.
I hate when books are written from the wrong perspective; when they're written by adults for tweenagers. Like, do you truly remember what it's like to be 12? No, not really.
Zendaya's Hot Legs and Sexy Feet
Jumping into one event after another, slipping into one outfit after the next, sitting on the makeup chair for hours…
Just days before attending the premiere of Dune on Monday night in London, Zendaya defended the mullet hairstyle she rocked…
In a new interview with British Vogue about her career goals and struggle with anxiety, Zendaya reveals her plans to…
"I'll be thinking about this wet look dress for the rest of my life," Franco-Ontarian women's rights advocate Julie S….
Just like Jordin Sparks, Zendaya is half white and half black. Her father is African-American while her mother has German…
Zendaya flaunted her incredible legs while walking the red carpet for the premiere of her movie Space Jam: Legacy at…
With her long hair blowing in the wind, Zendaya hit the red carpet at the 2021 Academy Awards in a…
An actress well known for her versatility, Zendaya has come a long way from her breakout role as the titular…
In May 2013, the then 16-year-old Shake It Up star Zendaya Coleman had a mostly Disney fan base, but her…
In June 2019, 5′ 10″ (1.78 m) tall actress/singer Zendaya paraded her endless legs at the premiere of her new…
If you loved the movie "The Greatest Showman," the musical about the life of P.T. Barnum, you are certainly not…
Two famous graduates of the Disney celebrity factory, Zendaya Maree Stoermer Coleman and Bella Thorne, have been so hard at…
In the 16th episode of season 3 of the American musical reality competition television series Lip Sync Battle, Zendaya famously…
Zendaya became a vegetarian after watching PETA's 2009 documentary Glass Walls, which was narrated by Sir Paul McCartney. It is…
Zendaya never fails to bring her sartorial flair to the red carpet, and the Critics' Choice Awards was no exception….
Zendaya wore a full Imane Ayissi look to the Queen & Slim premiere on Thursday night at the TCL Chinese…
Zendaya hit the stage to accept the awards for Female Movie Star of 2019 for her work in Spider-Man: Far…
When season two of the American mystery drama web television series The OA was released on Netflix on March 22,…
In an August 2019 interview with WWD, Zendaya opened up about what Idole meant to her following the release of…
Zendaya partied it up at HBO's Post-Emmy Awards Reception held at The Plaza at the Pacific Design Center in LA…
How Zendaya Met Her Shorter Spider-Man Boyfriend Tom Holland
Zendaya is InStyle's November cover girl, and the magazine's editor-in-chief Laura Brown was able to get the private actress to talk a little about her seemingly back-on British boyfriend Tom Holland. Holland and Zendaya were first seen kissing in July; they were first said by People sources to be dating in 2017, but denied the reports then.
When asked about the viral meme photo of her and Holland, sitting in a store with him in costume and her looking annoyed, she remembered the day that was taken—and how the paparazzi affected it: "We were shooting in New York, and you can't block off streets because it's public space," she said. "It's difficult for Tom, who has to be in the full Spidey suit; it's not like he can be incognito. He has to take his spider eyes out just to drink water. I don't remember if he's drinking water in that picture, but I think his eyes are popped out."
"The paparazzi can be wherever they want," she continued. "Even our holding area was a vitamin store with glass everywhere, so it wasn't super private. I'm assuming someone was looking through the window, trying to scare us or something. So that was my face."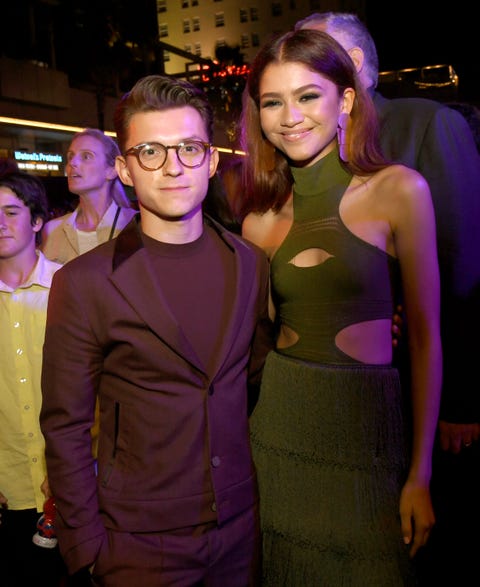 KEVIN WINTERGETTY IMAGES
Brown asked Zendaya about what she appreciates about Holland as a person and actor.
"There are many things, obviously, that I appreciate," she responded. "In an actor way, I appreciate that he really loves being Spider-Man. It's a lot of pressure—you take on the role of a superhero wherever you go. To the little kid who walks by, you are Spider-Man. I think he handled that so well. And seeing him at work, even though he's not a Virgo, he is a perfectionist," she said with a laugh.
Zendaya spoke earlier in her discussion with Brown about her own perfectionist tendencies, attributing it to her Virgo star sign. "Messing up. Making mistakes [makes me nervous]," she said. "Not being the best I can possibly be at something. Failure. Again, that's a Virgo thing. If something is not perfect or the best, then I feel like I might as well have not even done it. I turn something into being the worst thing, even if it was fine. But it's not fine to me."
On the subject of Holland's perfectionist tendencies, Zendaya said, "Our director allowed me to come in every day [of the shoot], and it was cool to see how he cares so much about his work and making it right. I watched him do a fight scene all day, which is exhausting. He'd do a move, come back to the monitors, watch it, and say, 'I can do that better.' I'd be like, 'Dude, you got it.' But he wants us to be perfect, and I really appreciate that."
Generally, Holland is easy company, Zendaya confirmed: "Yeah, he's a fun time. Very charismatic, can make anybody feel comfortable and have a good laugh and a good chat. A good chat—I sound so British."