We all have dreaded picking up the camera and walking out the door at some point. For me, the reason I have feared that simple task has been due to lack of inspiration. There is nothing more exciting than taking that step out of the door when I am feeling inspired, but not so much when I'm not "feeling it".
However, I had to come face-to-face with feeling uninspired and had to force myself to find inspiration in unlikely ways when I did a 365 Project. I found many ways of dealing with photographer's block during that tenure.https://500px.com/photo/984460/embed
1. Go Out & Start Shooting
The human brain wants you to find the perfect idea before you go out and accomplish the task of pressing that shutter button. I think many art forms are similar. I have spent many days not shooting, because I couldn't think of anything to shoot. I find that going out and shooting whatever random subject matter is there—no matter how dull—can create inspiration within itself. Go out and shoot that fire hydrant, and whatever other random dull objects you may find in your line of vision! It may lead you somewhere unexpected.https://500px.com/photo/69055835/embed
2. Find A Color
Go out and shoot one color. Narrowing your subject matter down to one color will make you see photographs you never would have otherwise. Different colors have different moods too. If you are feeling calm and cool, go shoot blue. Do you feel happy? Shoot yellow or orange. There are many internet resources that you can look into to explore the color wheel and emotional interpretation of color, I suggest starting with Google.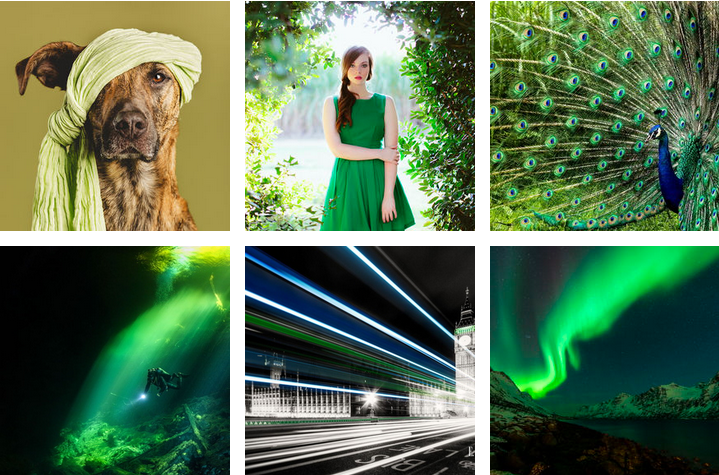 3. Shoot Feelings
Basing your photography on a certain feeling can trigger tons of inspiration. Let's say that I wanted to shoot "happy". Maybe that would lead me to an area that is connected in my mind with a happy time. Maybe, trying to capture a happy feeling leads me to a photo of that place with the perfect sunset, and I could capture my favorite photo ever. Isn't that inspiring? Also, you could try making a mood board and capture the vibe that you come up with. Personally, I've never been a fan of mood boards, but maybe those could work for you. I hear Pinterest is a great place to put one together.https://500px.com/photo/50499314/embed
4. Shoot Street Photography
Go out to the downtown area of your closest metropolitan area. Thousands of people pass through that area every day. They all have different stories and are living different days. Surely, you can find some inspiration in that. Put yourself in their shoes, then capture something that is meaningful to you.https://500px.com/photo/4000789/embed
5. Shoot Technical Photography That You Haven't Tried Before
Not only is technical photography interesting, shooting technically complex photos will help your skill set. You will be able to use those skills in the future by going out and expanding your skill set now. Typically, when I shoot in a new way for the first time, it will be frustrating and not turn out, but having those frustrating experiences has helped me down the road. A few skill sets you can learn are light painting, extended exposure, cloning, conceptual manipulations, and star trail exposures. Keeping busy and expanding your skill set can help you incorporate those ideas into your future pictures; therefore, give you more ways to capture your inspiration.https://500px.com/photo/46785278/embed
6. Go Somewhere New
Pack up your photo bag and take a big step out that door. Give yourself a general direction, and see where it leads you. I have done this a few times, and I have never been upset with the results. Granted, I have not used much of it in my portfolio, because for the last year or so, I have been strictly known as a portrait photographer. The last trip I took led me to an abandoned mining town. Let's just say I was feeling pretty inspired when I got there.https://500px.com/photo/38908740/embed
7. Collaborate
Collaborating is always fun. This way, you can tap into the creativity of someone else or get inspired by them. You could collaborate with another photographer, model, makeup artist, a group of friends, your neighbors. The pictures below are a collaboration between me and Joshua Marable. We came up with the idea of a character feeling lost or depressed—a sinking feeling. Joshua went to Goodwill and picked up an outfit that he thought worked well with capturing that feeling. I came up with the location, and thought out different ways to shoot there in order to capture the feeling of this fictional character.https://500px.com/photo/23831825/embed
Thanks for reading!