Digital Camera World is supported by its audience. When you purchase through links on our site, we may earn an affiliate commission. Learn more
DSLRs are back! Sales increase 132%, while mirrorless cameras decline 57%
DSLRs are far from dead – in fact, sales are up 132% while mirrorless cameras have dropped 57%. What's going on?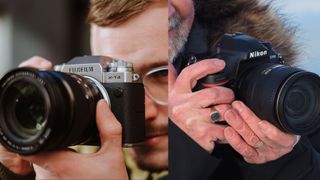 (Image credit: Fujifilm)
In a startling turn of events, DSLRs – which had previously seen shipments slump in favor of their mirrorless counterparts – have had a 131.8% increase in sales while mirrorless cameras have received a 57.1% decrease in the United States year on year.
Advertisement
The pattern of digital SLR cameras outselling mirrorless models is similar, albeit not nearly as pronounced, in the rest of the world. Globally, DSLRs only achieved 80.5% of their sales figures from the same period last year but mirrorless cameras slumped to 70.7%.
So, with the DSLR vs mirrorless cameras(opens in new tab) war largely thought to have been won by mirrorless, the question is… what the heck is going on here? Well, while it's tempting to start playing LL Cool J and proclaim that DSLRs are making a comeback, there's a little more going on here than meets the eye.
Texas Will Cover Homeowners Cost To Install Solar And Battery BackupFinance Daily
The principal reason for the shift in sales – provided by(opens in new tab) industry body CIPA (with a tip of the hat to Digital Camera Watch(opens in new tab)) isn't necessarily that the appetite for DSLRs is suddenly greater than that for mirrorless cameras; rather, that DSLRs are actually still available where their counterparts are largely missing in action due to the component crisis.
RECOMMENDED VIDEOS FOR YOU…
Where mirrorless cameras, with a lot of cutting-edge technology (and also by virtue of simply being newer to market), are struggling to stay in production, DSLRs didn't really suffer shortages in the same way. So if you want a brand new camera and there's only DSLRs available, your choices are limited.
Advertisement
It's also possible that there are a lot more beginners starting out in photography (something that we've witnessed in terms of reader behavior on this website), where the best cameras for beginners(opens in new tab) tend to be cheap and abundantly available DSLRs.
Either way, with the shortages and supply chain issues showing little sign of abating, this resurgence of DSLR sales may continue for some time.
Read more:
Best DSLRs
(opens in new tab)Best mirrorless cameras
(opens in new tab)Best cameras for photography(opens in new tab)
The editor of Digital Camera World, James has 21 years experience as a magazine and web journalist and started working in the photographic industry in 2014 (as an assistant to Damian McGillicuddy, who succeeded David Bailey as Principal Photographer for Olympus). In this time he shot for clients as diverse as Aston Martin Racing, Elinchrom and L'Oréal, in addition to shooting campaigns and product testing for Olympus, and providing training for professionals. This has led him to being a go-to expert for camera and lens reviews, photographic and lighting tutorials, as well as industry analysis, news and rumors for publications such as Digital Camera Magazine(opens in new tab), PhotoPlus: The Canon Magazine(opens in new tab), N-Photo: The Nikon Magazine(opens in new tab), Digital Photographer(opens in new tab) and Professional Imagemaker, as well as hosting workshops and demonstrations at The Photography Show(opens in new tab). An Olympus and Canon shooter, he has a wealth of knowledge on cameras of all makes – and a fondness for vintage lenses and instant cameras.
RELATED ARTICLES
Texas Launches New Policy For Cars Used Less Than 50 Miles/DayDo not pay your next car insurance bill until you read this…Smart Lifestyle Trends|SponsoredLearn More
Nikon Z9 is the top selling pro camera, with 57% of the market… but how?The Nikon Z9 owns 57% market share and is the top selling pro body. Despite being a camera that's never in stock!Digital Camera World
Why the Asus ZenBook Pro Duo is a game-changer for your creativity
Texas Will Cover Homeowners Cost To Install Solar And Battery BackupFinance Daily|Sponsored
The IRS is Forgiving Millions in Tax Debt – Yet Few Have Applied For ReliefFresh Start Information|SponsoredLearn More
Gronk's Favorite "Dressy" Shoes Feel Like Walking On CloudsGuys, Say Hello to Your New Favorite Casual Dress Shoe—Perfect for the OfficeWolf & Shepherd|Sponsored
CAMERA DEALS, PRIZES AND LATEST NEWS
Get the best camera deals, reviews, product advice, competitions, unmissable photography news and more!Contact me with news and offers from other Future brandsReceive email from us on behalf of our trusted partners or sponsorsBy submitting your information you agree to the Terms & Conditions(opens in new tab) and Privacy Policy(opens in new tab) and are aged 16 or over.LATESTMOST POPULAR